A CarBag product protects your car or motorcycle while it is in storage, blocking rust, dust, insects, mold and prying eyes. Our customers never cease to be amazed when their investments emerge from a jacket looking exactly how they entered.
About Us, About Carbags
John and Betty Schoepke are car enthusiasts. They also happen to be owners of Pine Ridge Enterprise- the first manufacturer and distributor of car and motorcycle storage bags
.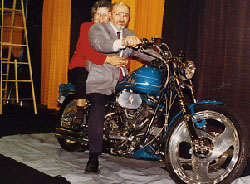 Before Carbags- John Schoepke
John is a life-long fan of automobiles. By age 21, he owned a '31 Chevy sedan, '30 Chevy pickup, '31 Ford roadster, 1931 Cadillac V-12 and a '56 Buick hardtop. After graduating from MI State University with a degree in marketing, John worked as a Porsche-Audio mechanic for ten years.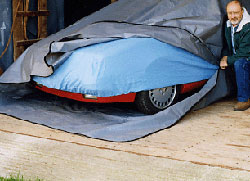 Before CarBags- Betty Schoepke
Betty also graduated from Michigan State University and spent 13 years at the Michigan Department of Public Health coordinating state and national training programs for clinical laboratory scientists. Betty's favorite car is a '71 Alfa Montreal, a vehicle that is quite rare and often mistaken for a Ferrari.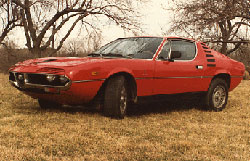 How we got into jackets
Living on a farm in mid-Michigan, we experience diverse weather ranging from ice storms and blizzards to thunderstorms and hail. Our car collection consist mostly of Alfa Romeos- cars designed for sunny Italy, not Michigan- and we stored them in barns or dirt floor sheds. Moisture in this environment left our cars prone to rust. We solved this problem by developing a "car bag"- literally, a bag our cars could go into during storage. When our first car came out of a bag, after being in a damp and dirty barn, we were excited because it was perfectly clean and rust free.
Our Business
After seeing the results of our car bag, we decided to produce and market them for fellow car enthusiasts. In 1985, we produced our first OmniBag and sold 35 that year. Growth was slow, but steady, and in 1995 the CarJacket was added to our product line (followed by the MotoJacket a year later).
Connecting with customers
Customers recognize that our products perform just as we say and want to tell us about it. Our phone bill reflects the mutual interest in cars shared with customers. We spend more time "car talking" than sales promotion. We welcome and encourage customer feedback- many of our improvements over the last 20 years have come from customers.
In the future
We are very satisfied with the success of our jackets, but we will continue to improve them to further reduce car/motorcycle deterioration.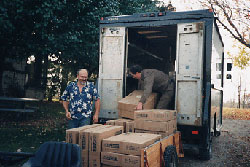 Keep a show car or bike spotless until the next event
Reduces risk of rust by lowering humidity.