Buy CarJacket
The CarJacket zips and seals around your vehicle and seals with solid brass locks. It protects from rust, corrosion, moisture, dust, dirt, and insects. After weeks or months of storage, your vehicle will come out as pristine as it went in. We guarantee it or your money back.
Every CarJacket order includes:
One CarJacket
OmniDry desiccant
Two Brass Zipper Locks
Instruction Booklet
| Order Now | Car W+H | Car Length |
| --- | --- | --- |
| | Up to 108″ | Up to 168″ |
| | 109″ to 114″ | Up to 180″ |
| | 115″ to 120″ | Up to 189″ |
| | 121″ to 126″ | Up to 198″ |
| | 127″ to 132″ | Up to 210″ |
| | 133″ to 138″ | Up to 219″ |
| | 139″ to 144″ | Up to 228″ |
| | 145″ to 150″ | Up to 240″ |
| | 145″ to 150″ | Up to 210″ |
| | 151″ to 162″ | Up to 219″ |
Jacket Checklist
You might need a Jacket if…
You have ever seen your car or motorcycle sweat during storage. Remember those certain days in your building when your car (even tools) were coated with moisture? This will not happen to a car stored in one of our jackets.
You want to keep a show car/bike perfectly clean, dry and show-ready until the next event.
You need to protect chrome and aluminum from corrosion. Water is needed for corrosion to occur. No corrosion occurs in a dry bag.
You find winter storage less than ideal — metal building, dirt or concrete floor, etc.
You would like to remove your car or motorcycle from storage in exactly the same condition it was when stored. With a CarJacket or MotoJacketyou can, and you do!
Jacket Requirements
GET THE MOST OUT OF YOUR JACKET
Inside storage such as a garage, pole barn, or even dirt floor shed. NOTE: INDOOR USE ONLY!
An absolutely dry car or motorcycle. This means that you should not wash your vehicle just before storing.
Fabric cover that is dry and clean. This helps prevent against any scratches on the vehicle.
STEP 1 Preparing Vehicle for Storage
Sweep floor and check tires to remove stones and grit that may damage the "jacket bottom". If floor is not smooth, place tarp or other padding under jacket. Lay the jacket down and drive to the center. Place 2 packets of OmniDry on the jacket.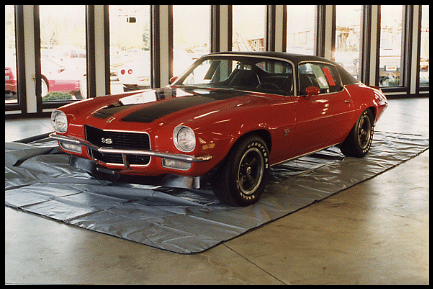 Step 2 Storing your Vehicle
Put a soft, clean, and dry cloth cover on the vehicle for added protection and then zip up the jacket. Be prepared to see your car come from storage looking as it did when you put in.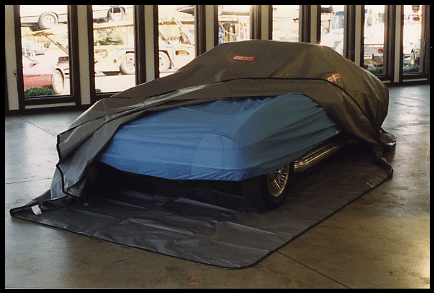 Additional Information
WE'VE BEEN AROUND THE BLOCK
Jackets are guaranteed for indoor use only
Your vehicle must be dry before put into the jacket
Do not wash on the day you plan to store your vehicle. Allow several days for thorough drying.
Do not drive on wet road or even wet grass just before storing.
Do not operate air conditioning before bagging as the evaporator may keep dripping water.
Repair all fluid leaks. Especially check fuel tank, fuel lines, radiator, water hoses and windshield washer system.
A freshly painted vehicle should not be bagged. Fresh paint should be properly dried/cured two to three months before storing a car or bike in any carjacket.
Keep jacket interior clean by putting something under vehicle to catch drips as needed.
Be sure bike or car is cool. Never park or cover vehicle while engine/exhaust is hot. Jacket material could be damaged/melted.
Store your vehicle during low humidity whenever possible. Mid-afternoon on a dry day is best
Use a gas stabilizer like Sta-Bil.
Over-inflate tires 10 lbs. psi.
Check antifreeze for amount of cold protection.
Remove battery and clean with a baking soda and water mixture.
Save jacket box for future storage of jacket.
Save OmniDry box, plastic bag, and instruction card if you plan to dry desiccant for reuse. Some folks place them in jacket under vehicle.